---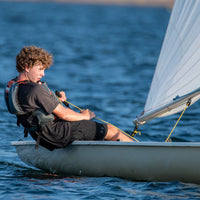 2023 Fall After School Sailing Registration
Dates: The After School Program is a 5-week program that runs from August 21- September 21. No single weeks will be sold.
Dates & Times:

Monday, August 21st - Thursday, September 21st (5 weeks) 
4pm-7:30pm

**No camp on Labor Day- Camp will run Tuesday-Friday (9/5-9/8)



Description: The Sail Park City After School Sailing program is for children and young adults, ages 10-17, who have demonstrated mastery of the sailing fundamentals and want to take their passion for sailing to a new level. The After School Program will continue to refine boat handling and sail trim skills while adding more knowledge and use of the Racing Rules in Starting, Mark Rounding, Tacking, Gybing, and Boat-on-Boat tactics. Previous experience in Intro to Race or Race Team is required. **After-school sailors may be asked to try out. 
Cost $850 ($725 with member discount)
Discounts
MEMBER DISCOUNT: 15% off each camp registration. (Coupon code provided in membership sign up email confirmation)
Scholarship: We are offering scholarships for the After School Program- Please email info@sailpc.org after you register your sailor, for more information (and partial refund process).
REFUNDS & CANCELLATIONS 
Because pricing has been determined by the number of students that have committed, we cannot issue refunds.